ELASTOMERIC(RUBBER) CABLES
Elastomer(rubber) is an insulating material with high dielectric strength having a decent property of flexibility, the El as torn eric cables are suit:
for electric iron leads, reeling&un reeling application in mining, heater leads, elevators cranes&other high dielectric&flexible application.Th
manufactures wire and cables to IS 9968(Part-1) /1988&Part-I, IS 14494, IS 9857/ 1990 For Welding Cables.
There are various type of compounds according to the grade&properties as per IS:6380Suchasa general purpose, heat resisting&high tem;
The elastomeric cables are suitable for use where the combination of ambient temperature&temperature-rise due to load remains stable up t
limits in the conductors.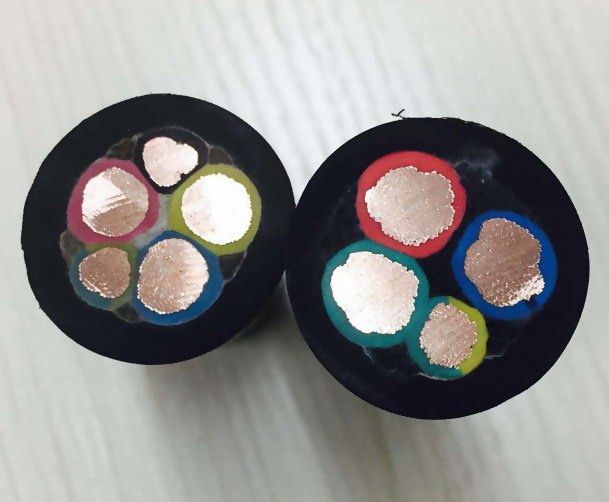 弹性橡胶电缆 橡套电缆,YC电缆
K9CCisone of the leading manufacturers of varieties of Elastomeric Cables made of Natural and various types of Synthetic rubber compound:
based onE PR, CSP, NBR-PVC, EVA, Si icon are made in the most modernized plant by highly ski led hands to suit the speci ic operational regi
R&D and upgraded production technology are the main features of Elastomeric Cables Division at BM.The cables are manufactured in compl
National and International Standards.The Design Engineers at BMI renders every assistance to the customer in designing a cables for any criti
Ela some ric cables and flexible cords for power and lighting.
Welding cables(General purpose and H OF R types) .
Ship wiring cables and cables for submerged connections.
Railways locomotives and coach wiring cables.
Cables for engineering and chemical industries.
Mining cables-Flexible Trai ing, Coal Cutter, Pliable armoured and LandLine Cables upto11kv
Cables for wind electric generators(Wind mil projects) .
Silicon rubber insulated high temperature cable.
Flame retardant, fire resistant, LFH and FS cables.
Elastomeric compounds for insulating and sheathing of cables are formulated to meet the requirement of IS: 6380, BS 6899, IEC60502ando the
specification.
Conductor
Separator Tape
Insulation
Core Identification
Annealed tinned Copper conductors Solid(Class I) , Stranded(Cla:
(class 5) complying with the requirement of IS 8130-1984.
A Polyester(M"about:config e line x) tape to be applied over the con
General service elastomer type IE1ofIS 6380-1984
Heat Resisting insulation Type IE 2&IE3ofIS 6380-1984
SiliconRubberInsulationTypeIE5OFis:63so-1984
The cores are identified either by colors or by numbers as per follo
GENERAL CONSTRUCTION OF RUBBER CABLE(AS PER IS 9968(Part l) / 1988
Conductor
AtpresentCopperandAluminumweldingcablesarecoveredunderIS:9857-1990.TheearlierIS:434, covered only VIRco v
the present specification covers Welding Cables under two categories.
1.
Cable with General Purpose Rubber compound covering(GPR)
2.Cable with Heat Resistant, Oil Resistant, Fire Retardant compound covering(H OF R)
Construction
(a) Conductor:
(I)Copper Conductor:The conductor shall be composed of plain or tinned annealed high conductivity copper wires comply in
:8130.The conductor formationshall be according to class 6(Table 4) of IS: 8130.
(ii)Aluminum Conductor:The conductor shall be composed of Aluminum wires complying with IS:8130.The conductor for
according to Table 5ofIS:8130.
(b) Separator:
The separator shall be of polyester tape/dry paper, or any other suitable material.The conductor shall be covered with a separat
tape shall applied on conductor to give complete coverage over the conductor.
Add picture
(c)Covering:GPR/HOFR
The general purpose rubber compound shall comply with requirements of typeS El to IS:6380.The heat resistant normal duty
Heat Resistant, Oil Resistant, Fire Retardant(H OF R) compound covering compound shall comply with the requirement of Tyr
SE3toIS:6380.Thecoveringshallconsistofoneofthefollowingappliedovertheconductorandseparator.
(a) A layer of general purpose normal duty rubber compound.or
(b)A layer of Heat Resistant, Oil Resistant, Fire Retardant(H OF R) compound covering normal duty.
Separator TapeA polyester(Me line x) tape to be applied Over the conductor.
Insulation
Core Identification
WELDING CABLES
Annealed tinned Copper Conductor Solid
(class l) stranded(class 2) , Flexible(Class 5)
Compelling with the requirement of IS 2130/ 1984
General services elastomer type IE1IofIS 6380-1984.Heat
Resisting insulation Compound type IE.2&IE3ofIS 6380-
1984.SiliconeRubberInsulationTypeIE5ofIS:6380-1984
The Core are identified either by colors or by numbers as per
Above table